ng500
ng500 – Next generation 500 series – hardware extension to 500 series which allows to manage and recall settings of the modules from external source.
NOTE ABOUT 500 SERIES EXTENSION IN MODULES:
Each WesAudio device in ng500 (Next Generation 500 series) product line is equipped with special connector. This connector is an extension to 500 series, and allows your device to be managed/recalled through specialized GCon protocol (e.g. _Titan 500 series 10 slots frame).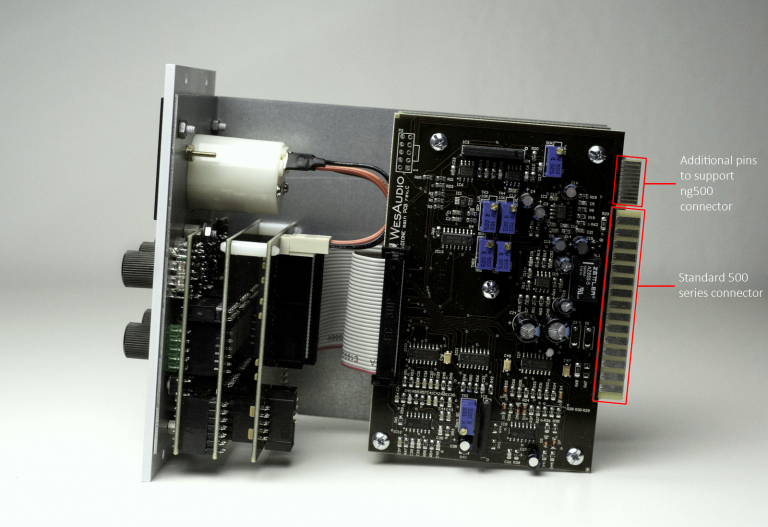 500 SERIES COMPATIBILITY
This extension is compatible with 500 series standardized plug type, however some manufacturers apply enormous screws to the plug itself, which prevent the device to fit in. Based on official research more than 90% of available 500 series racks will fit just fine. Currently known exceptions:
Rupert Neve Designs 500 series Racks (R6 & R10),

Aphex 500 series rack,

Some older BAE racks (not produced anymore).

Midas L6 – Module won't be able to fit till the very end on slot 3 & 6 – it should work just fine though.

Midas L10 – Module won't be able to fit till the very end on slot 4 & 8 – it should work just fine though.
IF YOU ARE IN POSSESSION OF ANY OF THOSE 500 SERIES RACKS, THERE ARE FOLLOWING OPTIONS:
If You are in posession of WesAudio module WITH ng500 connector (regular version):
RND R6 & R10 – it is quite simple modification to remove thoe screws, and there is no impact on the chassis – We have created very simple tutorial:

r6_mod

For Midas L6 & L10 – WesAudio modules can be placed on slots without the in upper side of the connector.

For BAE & Aphex racks – it was not analysed how complicated removal of those screws can be, so we would advice to select different chassis, or aquire WesAudio module without ng500 connector (look below).
You can order WesAudio module WITHOUT ng500 connector (special order):
Each device can be ordered without special ng500 series connector which makes it fully 500 series compatible, however:
The device compatibility with _TITAN chassis is broken, and can't be undone.

The device can be managed/recalled via direct USB connection without any problems – however please note that each module to be connected separately via USB cable.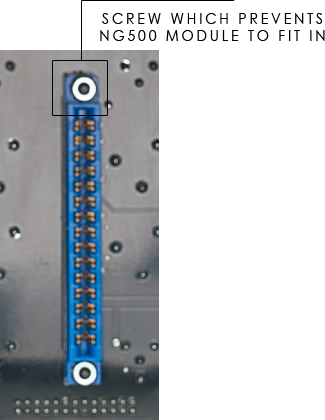 NOTE ABOUT NG500 SERIES CONNECTOR IN _TITAN:
_Titan connector was designed to deliver new implementation opportunities, but also to remain compatible with most of 500 series modules. Nevertheless ng500 series connector is higher then standard 500 series plug and some standard 500 series modules won't fit into _TITAN. The reason for that is module's chassis design at the back, which can prevent the module to fit in correctly.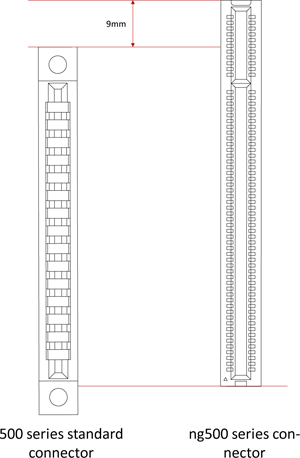 As you can see on above picture, ng500 series connector is higher 9mm comparing to standard 500 series socket (please note that above sockets are matched to each other based on particular pins). To check if your modules will fit into _TITAN you can send us a query to info@wesaudio.com with description of modules that you would like to use. Below You can find an ilustration what causes the problem: